All year students in my environmental science courses will work on profiles of women scientists, relevant to the class topic. It will be a block long assignment (introduced week 1, due on the last day). I am excited for my students to learn about the myriad of paths scientists take in their lives – what they study – how they have contributed to their field – why they got interested in science and what led them to becoming a scientist in the first place. This project developed from a desire to bring what I do outside of CC – specifically with the Earth Science Women's Network, the PROGRESS program, and ADVANCEGeo – into my classes. Gender, race, class – they affect every bit of our society, including science; this is my attempt at explicitly including an ongoing discussion of these topics in my courses.
The idea. The seed for this project came from a post by Dr. Maryam Zaringhalam on Twitter linked to a Guardian article on Dr. Jess Wade, a physicist at Imperial College who wrote 270 Wikipedia profiles in 2017 – all of women scientists. Similarly, in following Dr. Zaringhalam on Twitter, I noticed that she was also writing bios and even organizing events to write lots of Wikipedia bios about Women in STEM fields. I thought – I can do this. Better yet, I work at a liberal arts college – my students can also do this!
Why? In addition to wanting to merge my "non CC" activities into my teaching life, here are two more reasons: to increase students sense of belonging and to pay it forward
Research illustrates that a sense of belonging is critical to success (e.g. Dennehy & Dasgupta 2017 PNAS). Yet our history books and "books" like Wikipedia (the 5th most visited website in the world) reflect a very white, very male centric view on everything – including science and scientists.
??? The five biases on @Wikipedia .… Thanks @PoppyNoor  for teaching the @ObsNewReview  what we need to do to make the internet great again ?? #womeninSTEM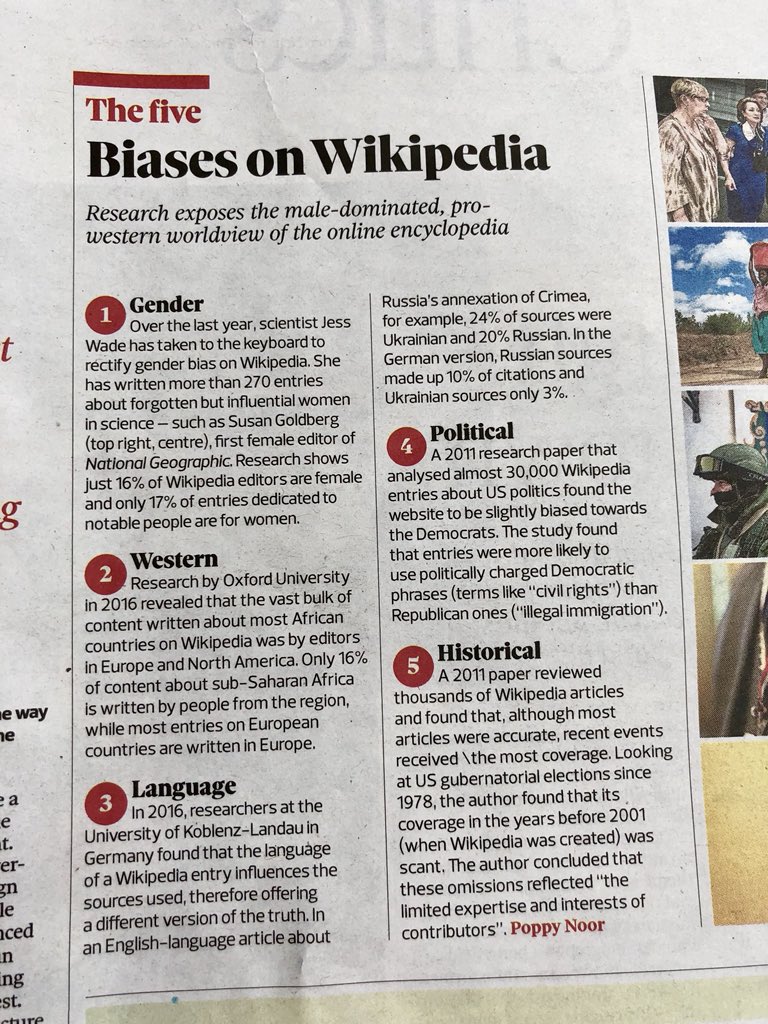 — Dr Jess Wade ??‍? (@jesswade) July 29, 2018 
If fact less than 18% of biographies on Wikipedia are of women!
2. A college education, teaching college students, these are privileges, a privilege that many do not have. Therefore in an effort to pay it forward, I am asking my students to participate in this project; more deliberately discussing the issues of gender, race, and class in science. By helping document more women in STEM across a broad range of fields, my students have the opportunity to collectively contribute hundreds of biographies to Wikipedia. Plus, several other faculty have already asked if they can participate and I am hopeful that by the end of this academic year it will have extended beyond the STEM disciplines on our campus.
Classes. My block one class (Human Impacts on Global Biogeochemical Cycles, EV211) was joined by Jess & Maryam (read their recent commentary in Nature) via Skype to discuss why on earth we are doing this and why they have dedicated many of their precious hours to writing Wikipedia biographies of women in STEM. Making this afternoon even more remarkable (can you tell I am excited about this?) professor Emily Schneider's Qualitative Methods in Sociology course joined us the discussion with Drs Wade & Zaringhalam. Her class is spending the block thinking about questions like this – how does my position, i.e. me the researcher, affect how I ask questions and how I go about answering them. This fortuitous connection was made via Facebook when Emily asked if anyone was interested in talking to her class about scholar-activism as a researcher. Thank goodness for social media (again): you in fact are not always wasting your time!
In Blocks 3, 5, and 8 I will be teaching EV128 Introduction to Global Climate Change and EV351 Hydrology. Please send suggestions (see below) for women who work in fields related to these topics.
WiSTEM. The Women in STEM student interest group is going to promote this activity, with students working on biographies over the course of the semester and culminating in a wiki-thon event with everyone getting one or two peer reviews and then being able to publish them all onto Wikipedia.
I would love to get names of women scientists who work in all STEM fields, recognizing my own network bias towards biogeochemists, ecologists, and hydrologists. If you want to contribute to the growing list of women scientists who could be profiled by my students, please see this google doc. It would be great if you could check Wikipedia's notability requirements before contributing – but when in doubt please submit names.
September 2018 Update: This project was briefly highlighted in a C&EN article on Where are Wikipedia's Women in Science?
March 2019 Update: The folks at wiki.edu are not only super helpful (even sending me feedback on my students' biographies) but they also highlighted my project on their blog.